Labels, Ties & More
VGS carries a large variety of labels, tags, ties, and rubber bands for agricultural products and grower traceability compliance. From fully customized to generic products, VGS works only with vendors who are able to provide the most advanced graphic technology, highest quality, and competitive pricing to meet all customer needs and requirements. We distribute packaging throughout California, Arizona, Mexico and across the United States. We source packaging that meets or exceeds FDA food safety requirements, certifications, and third-party audits.
More specifically, we carry a wide array of ties in a variety of sizes and colors including but not limited to:
Twist Ties
Bib Ties®
ElastiTag®
Skirt Ties
S Locks
Ties are popular for produce such as kale, parsley, cilantro, beets, and more.
ElastiTag® offers unique branding for fresh produce. You can enhance your brand presence, provide product information, give recipes and tips or display country of origin. With the stretchy elastomer loop combined with a durable, water-resistant tag – there is sure to be an ElastiTag® that is perfect for your produce!.
For grower compliance regarding traceability initiatives and regulations, VGS also carries a variety of labels including but not limited to:
4×5 Pallet Labels
4×6 Pallet Labels
PTI Labels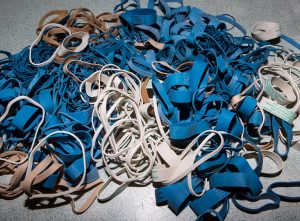 These labels allow harvesters to identify lot, ranch, and crew that harvested the product. The PTI (Produce Traceability Initiative) labels, as well as many other products VGS carries, assist customers in tagging, labeling, and tracing their products throughout the entire supply chain.
VGS sources, both domestically and internationally, an assortment of rubber bands in different sizes and colors for either your specific or generic needs and requirements.
Stop by or call any of our numerous store locations for a complete overview of product offerings. Our knowledgeable and experienced staff will be able to guide you in the proper selection for your growing and harvesting needs.